Milo's Scriptwriting/Film Appreciation Group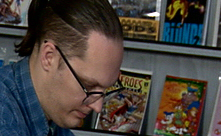 HT co-writer and producer Milo Miller would like to let anyone interested know about a Scriptwriting/Film Appreciation group he's running at the Westlake Borders Books and Music. It meets every second Tuesday at 7:30. "The meetings are very unstructured and free-form. It's not a class, more just discussion. But we try to approach things from a story/scriptwriting angle. Past groups we've discussed Syd Feild's work and Robert McKee's Story. Last month we broke down David Fincher's Seven and Fight Club. The Oct 11 meeting we're going to tackle horror films--the best, worst, most unusual...The group is very informal and open to all. I'd love to see some new folks. (Also if you're interested in running a session or want to share a particular passion or script with the group let me know.)"
You can contact Milo at
Milo@swingingcane.com
.